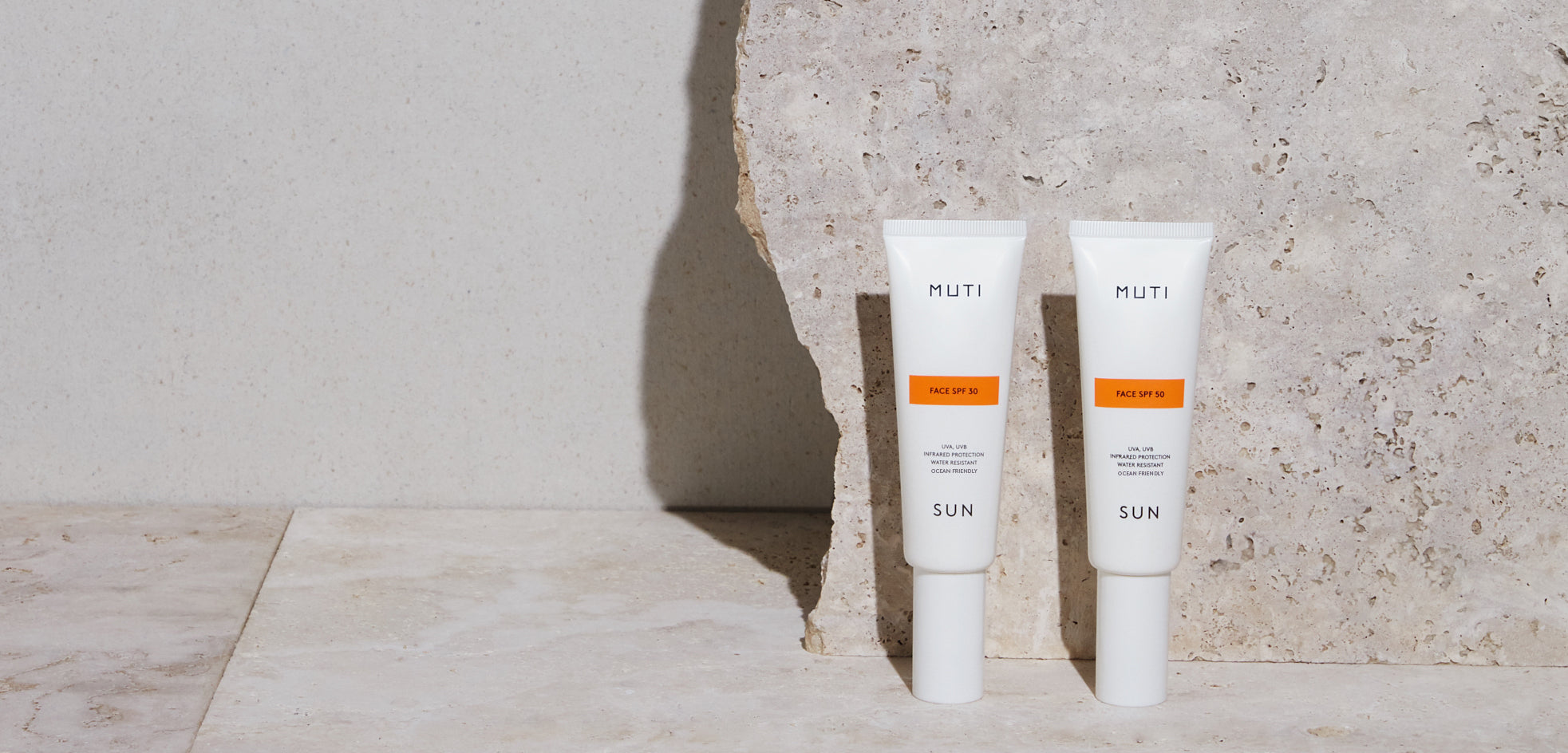 Finally, the SUN is back – what has changed, and why is the formulation so good?
Anti-ageing, slow ageing, pro-ageing – all these various terms to describe the effect of care products have one goal. They help the skin in its daily defence against aggressive environmental influences thereby making it less sensitive to them, so that the optical ageing process of the skin is not artificially accelerated, but is instead delayed.
A very important and prominent example of these environmental influences and their consequences is photoageing, triggered by UV radiation. That's because we are exposed to it more or less every day, even when the sun isn't shining. The lasting consequences of constant sun exposure become visible on the skin in the short to medium term: dryness and often even redness, fine lines and wrinkles, and frequently hyper pigmentation, too.
UV radiation not only accelerates collagen breakdown and promotes the formation of pigmentation spots, it also dehydrates the skin and leaves it looking older due to the appearance of fine dryness lines and wrinkles. That's why MUTI considers that good anti-ageing care should start with a daily application of sunscreen. Because this should be obvious, we have also made a minor amendment to the name of the products by omitting the "anti-age" part. But more about this under "Back and better - the new MUTI SUN".
The MUTI SUN is protection and care all in one. It provides comprehensive protection, it soothes, repairs and hydrates. With its gentle, vegan formula, it maintains the microbiome and thus supports the skin barrier in its primary function as a protective shield. Its fragrance-free and ethanol-free formula also makes it ideal for sensitive skin. Like all MUTI products, it is free from silicones, mineral oils, parabens, paraffin, PEGs, microplastics, essential oils, fragrances, dehydrating alcohols and ingredients of animal origin.
Back and better – vegan and ocean-friendly
In the formulation of the SUN range, we felt it was especially important to create essentials that offer comprehensive protection and leave the skin feeling pleasant, making them suitable for daily application. The result is a waterproof and ocean-friendly formula, which provides comprehensive protection against UVA, UVB and infrared radiation, is enriched with moisturising hyaluronic acid without sticking or leaving a white cast. A new feature of SUN products is that they are now also vegan, and no longer include the word "anti-age" in the product name. The SUN range therefore now offers FACE SPF30 and FACE SPF50.
We use modern filters in the SUN range , and – in keeping with our understanding of 'clean beauty' – we avoid using nanoparticles or filters that are harmful for people and the environment, such as octocrylene, oxybenzone, octinoxate or homosalate. We use a combination of the following chemical filters in our SUN products:
Bis-Ethylhexyloxyphenol Methoxyphenyl Triazine (Tinosorb S)
Diethylhexyl Butamido Triazone (Uvasorb HEB)
Diethylamino Hydroxybenzoyl Hexyl Benzoate (Uvinul A Plus)
Ethylhexyl Salicylate (Neo Heliopan OS)
Ethylhexyl Triazone (Uvinul T 150)
Phenylbenzimidazole Sulfonic Acid (Eusolex 232)
We chose these filters because they have been proven harmless. We achieve comprehensive UVA, UVB and infra-red protection with our products. The infrared active complex made of vitamins C, E and B3 provides comprehensive protection against free radicals and gives a strengthening boost to the UV protection. These filters also have low allergenic potential and no hormonal effects; they do not accumulate in the body or disrupt metabolic processes, and are photostable and ocean-friendly.
We hope you enjoy discovering the new MUTI SUN products!
Nachtcreme oder Nachtcreme Plus?
Welche MUTI Nachtcreme ist die Richtige für mich? Wir alle wünschen uns am Morgen ein frisches und beruhigtes Hautbild, um entspannt in den Tag zu starten. Aber braucht die Haut dafür eine Extra-Pf...
Read more