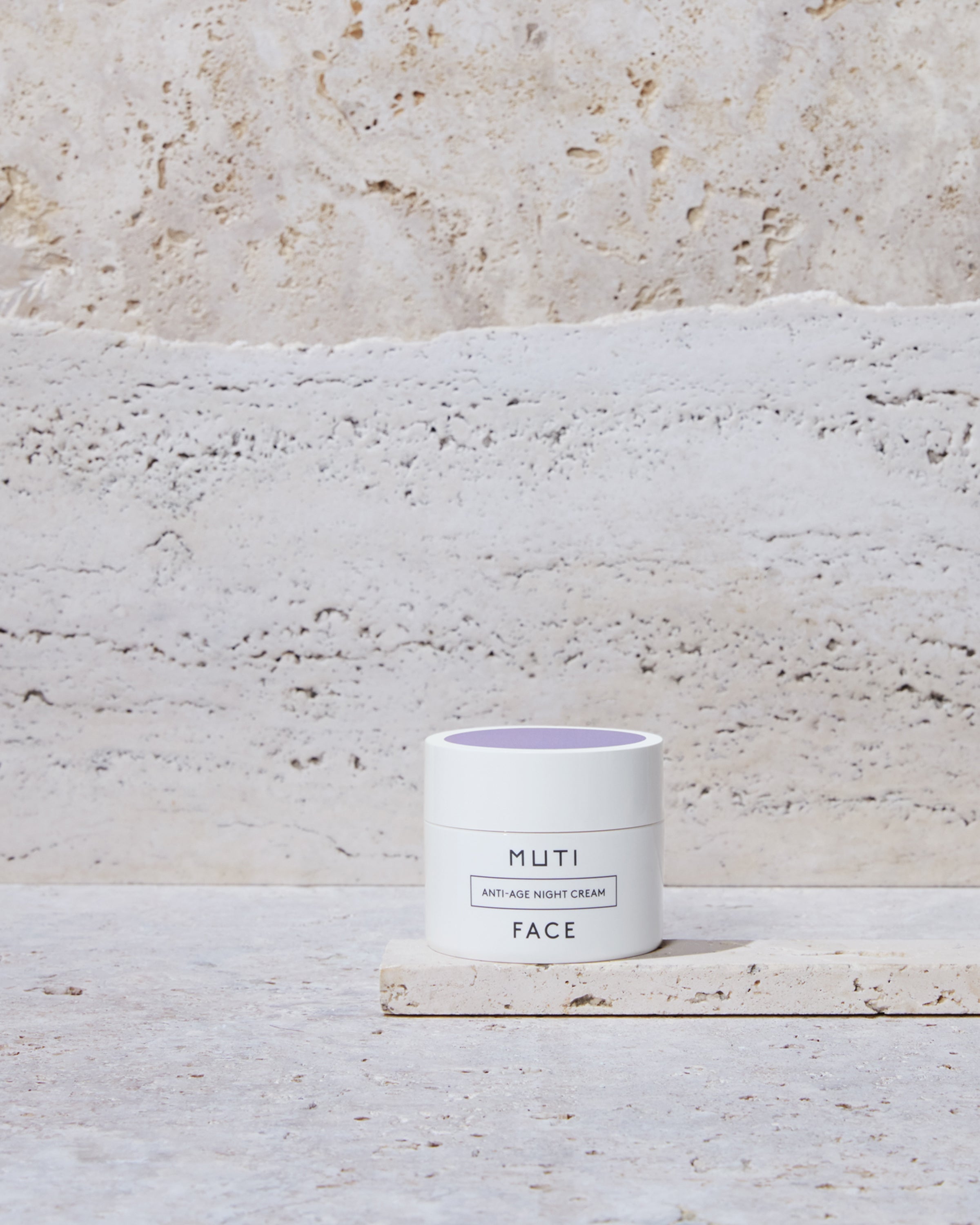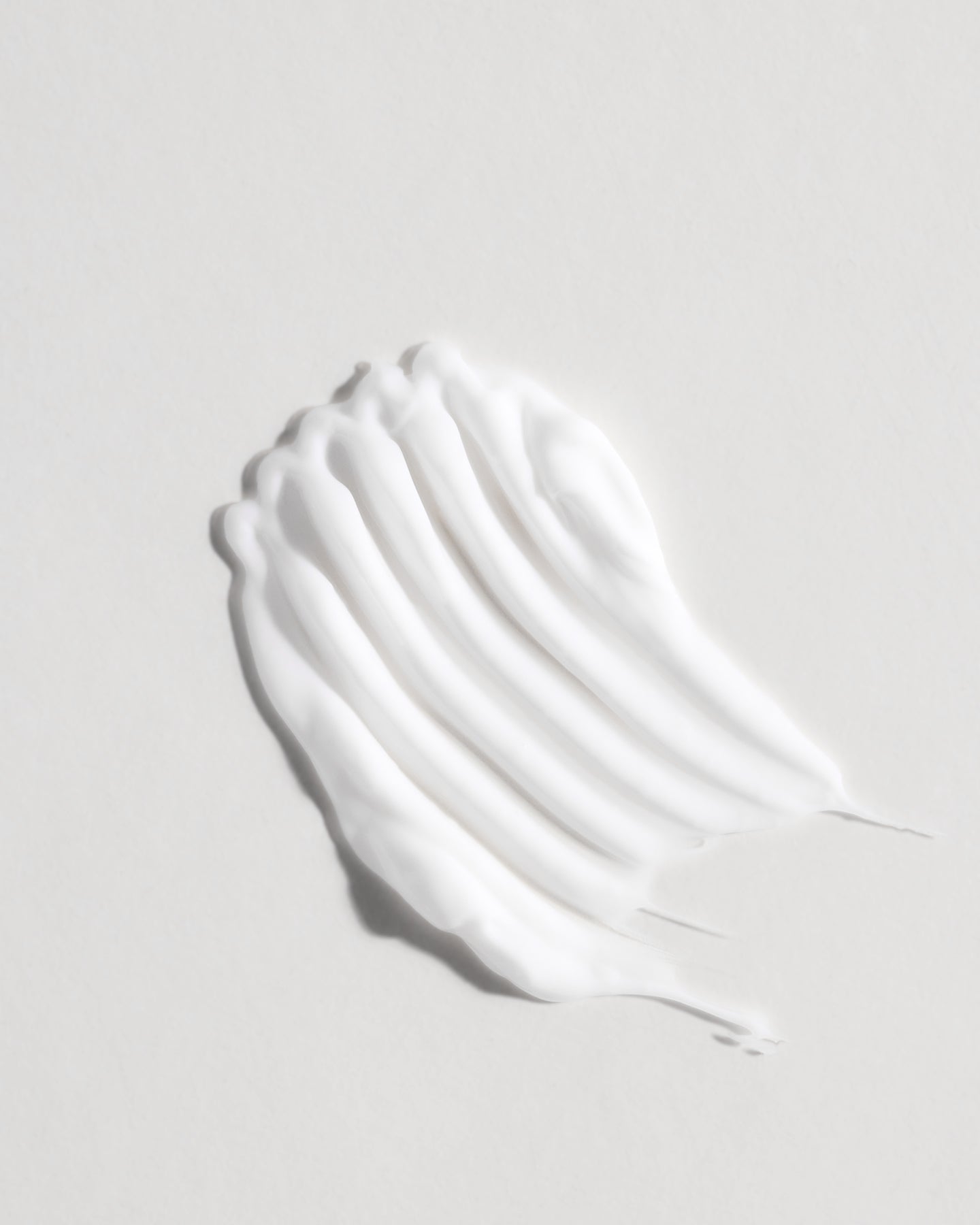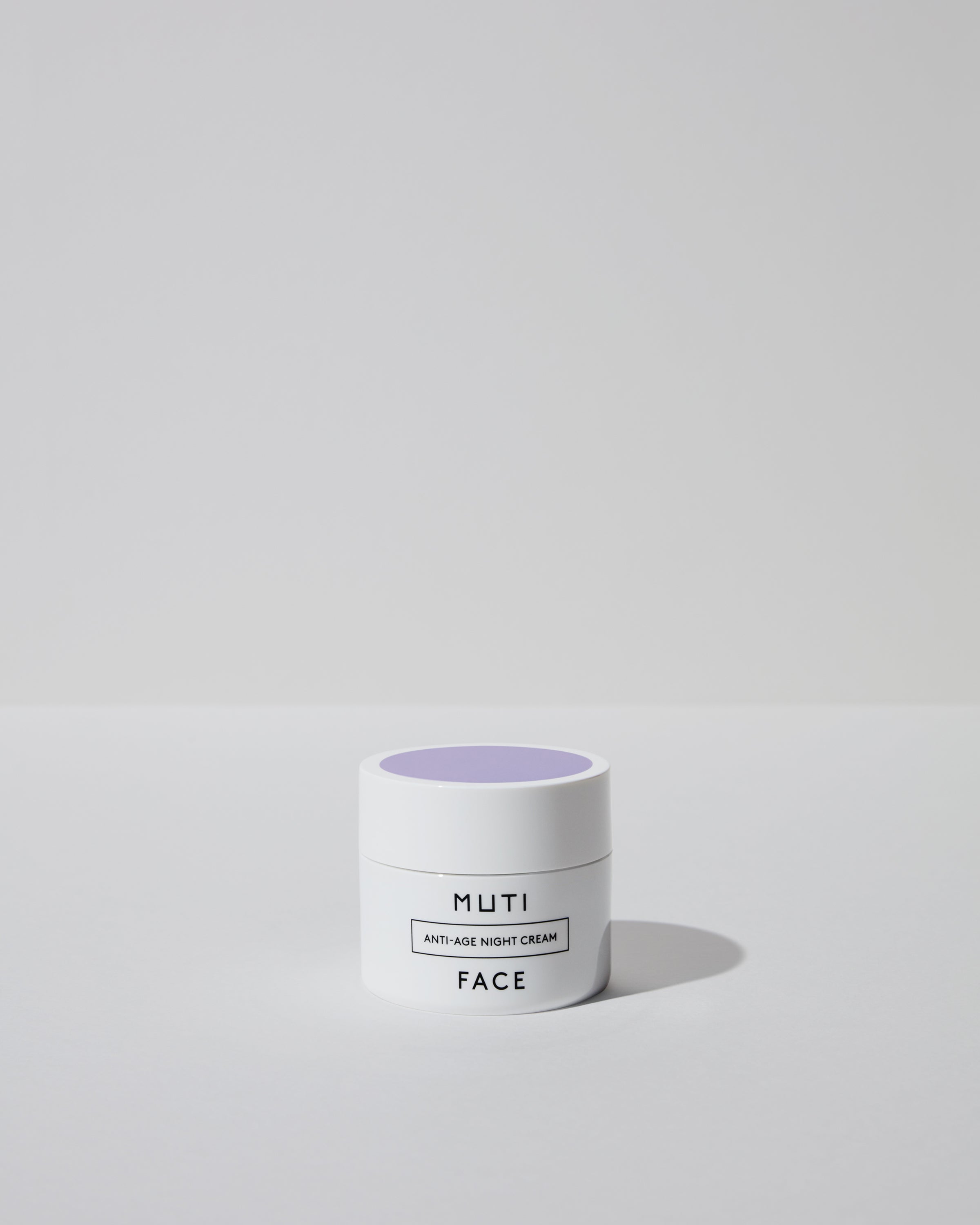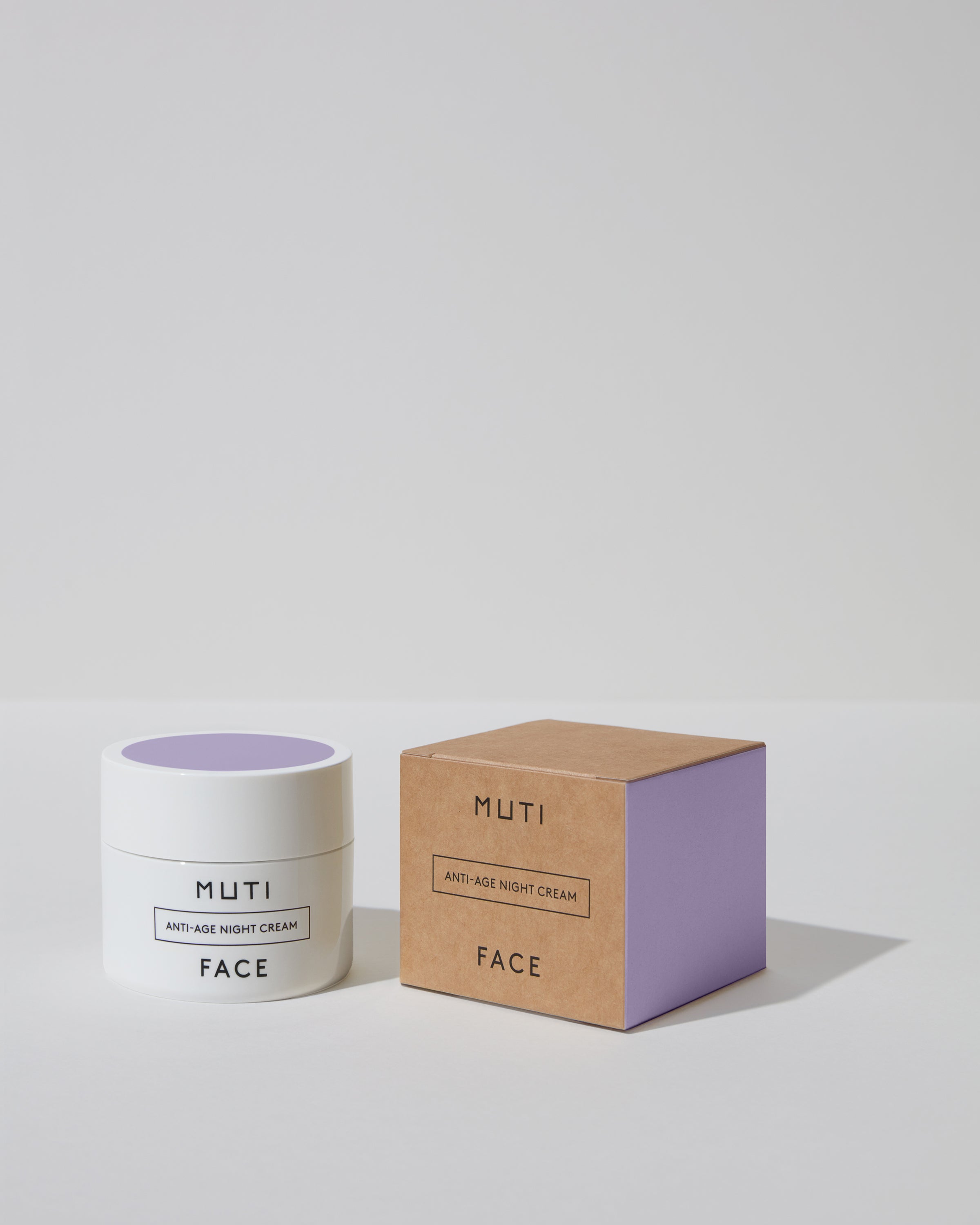 Anti-Age Night Cream
Sale price

48,50 €
Regular price
50 ml
970,00 €/l
Shipping & taxes calculated at checkout Delivery in 1-2 working days
Fragmented hyaluronic acid

CLEAN BEAUTY
All MUTI products are free from ingredients of animal origin, silicones, mineral oils, parabens, paraffin, PEGs, microplastics, essential oils, drying alcohols, and perfumes.
The softly melting ANTI-AGE NIGHT CREAM helps the skin to help itself. It does this by supporting the skin's own repair system as much as possible and lastingly strengthening the microbiome: the unique ε-Peptide Complex® activates the cell metabolism and thus accelerates the body's own regeneration processes. Fragmented hyaluronic acid provides moisture to the skin in all its layers. It also fights dryness lines and photoageing with vitamin E and ectoine. Supported by macadamia oil, which also leaves your skin feeling incomparably pleasant after application.
Balances moisture deficit, smooths dry fine lines, protects the microbiome, stimulates repair processes, soothes irritations.
After cleansing, apply to face, neck and décolleté.
FRAGMENTED HYALURONIC ACID
Short chain hyaluronic acid molecules, which can penetrate into the deeper layers and ensure long-lasting moisturisation

MUTI ε-PEPTIDE COMPLEX®
Activates collagen and elastin synthesis, protects the skin against the development of free radicals caused by environmental influences and accelerates the skin's own regeneration processes. Stabilises and thus lastingly strengthens the microbiome

TOCOPHEROL (VITAMIN E)
Protects against free radicals and photoageing. It binds moisture in deeper layers of the skin and supports the regeneration of the skin

ECTOINE
Hydrates, stimulates collagen development, repairs and soothes irritated skin

MACADAMIA OIL
Contains precious omega-3 fatty acids, which support the skin's nocturnal repair mode and strengthen the barrier layer
More active Ingredients
Aqua, Propylene Glycol, Caprylic/Capric Triglyceride, Cetearyl Olivate, Sorbitan Olivate, Squalane, Macadamia Integrifolia Seed Oil, Butyrospermum Parkii Butter, Urea, Xanthan Gum, Glycerin, Niacinamide, Pentylene Glycol, Calcium Pantothenate, Sodium Hyaluronate Tocopherol, Ectoin, Sodium Citrate, Bisabolol, Helianthus Annuus Seed Oil, Maltodextrin, Panthenol, Bisabolene, Superoxide Dismutase, Ceramide 3, Polyglyceryl-10 Stearate, Bromelain, Glucose, Glycine, Sorbitol, Sucrose Stearate, Hydrogenated Lecithin, Ethylbisiminomethylguaiacol Manganese Chloride, Bis (Tripeptide-1) Copper Acetate, Hydrolyzed Soy Protein, Lipase, Protease, Magnesium Chloride, Palmitoyl Dipeptide-5 Diaminobutyroyl Hydroxythreonine, Palmitoyl Tripeptide-5, Tetradecyl Aminobutyroylvalylaminobutyric Urea Trifluoroacetate
Why does the skin need extra nourishment at night? Because that's when the elementary repair processes take place, and the skin may need extra support with these. Night creams provide it with the active substances it needs to help it recover more quickly and combat minor inflammation caused by environmental pollution, feelings of tautness or fine lines and wrinkles. Substances such as fragmented hyaluronic acid, which is the heart of all MUTI care products. In its fragmented form, it can moisturise the deeper layers of the skin and activate the skin's own ability to store moisture. This process is supported by vitamin E, a highly multifunctional active ingredient. As an antioxidant, it protects against free radicals and photoageing. However, it also promotes regeneration and can bind moisture in the deep layers of the skin. A perfect synergy effect, which is boosted even further by the oil-replenishing lipids of the macadamia oil and the repairing effect of ectoine. The result: smooth skin overnight.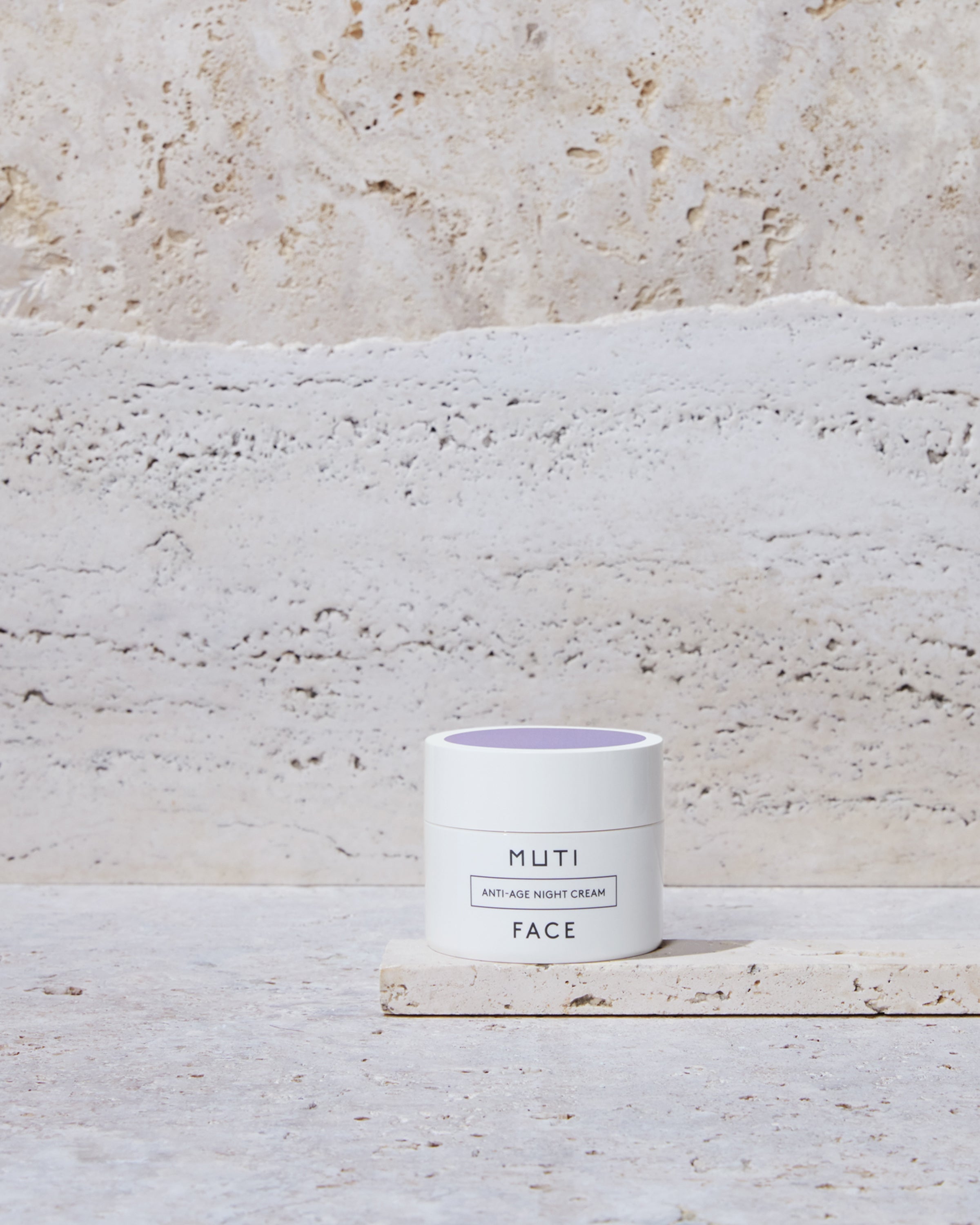 Anti-Age Night Cream
Sale price

48,50 €
Regular price
50 ml
Choose options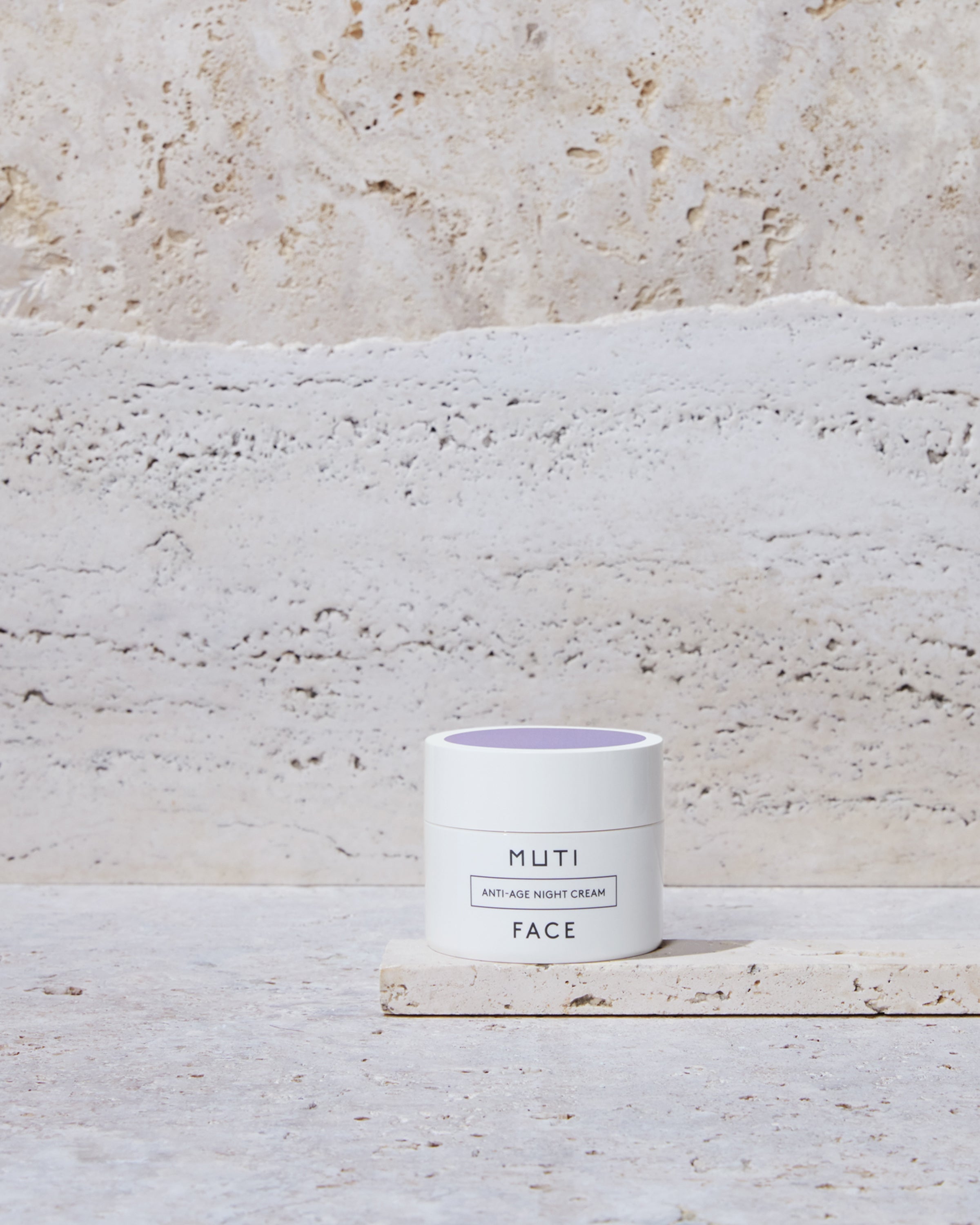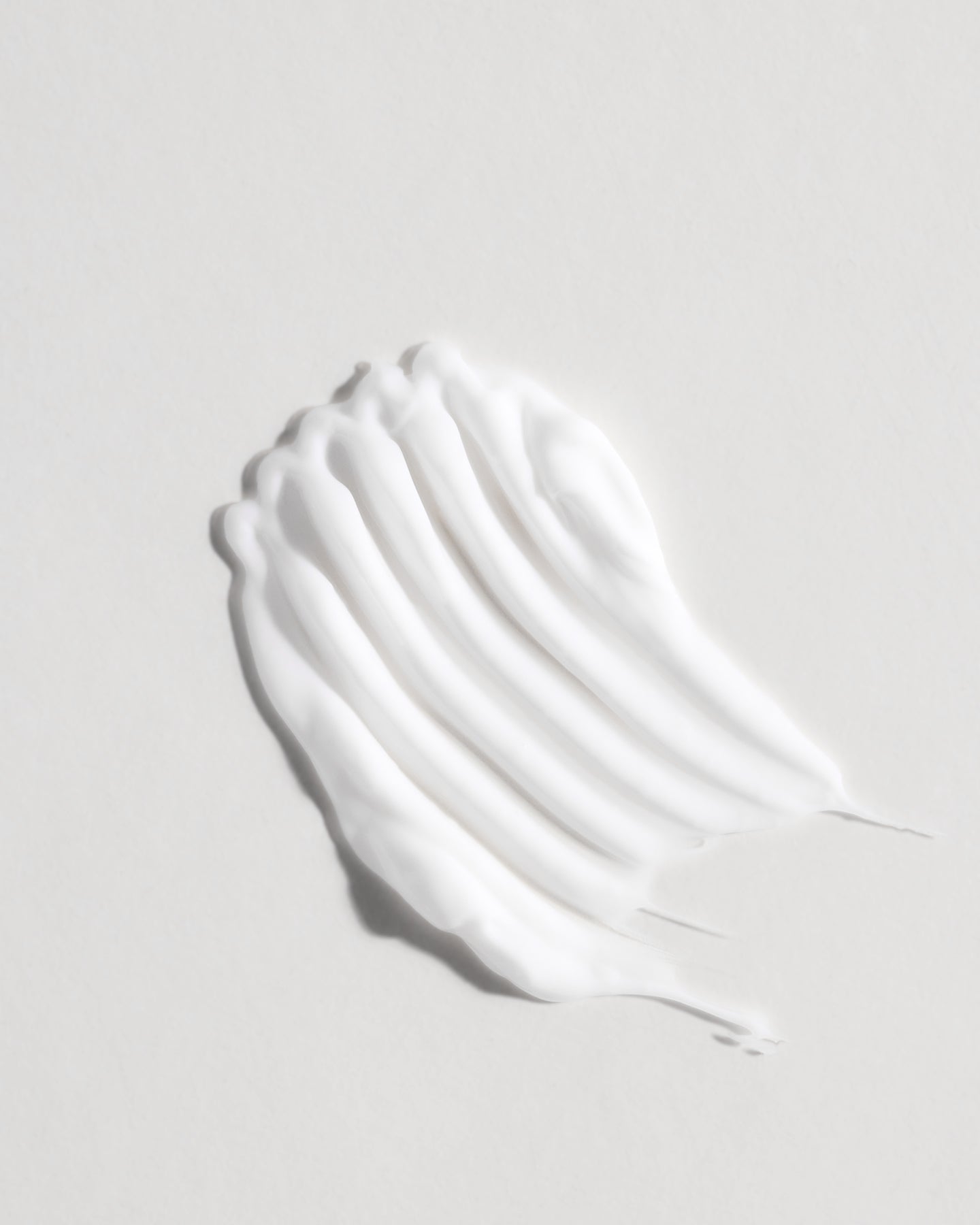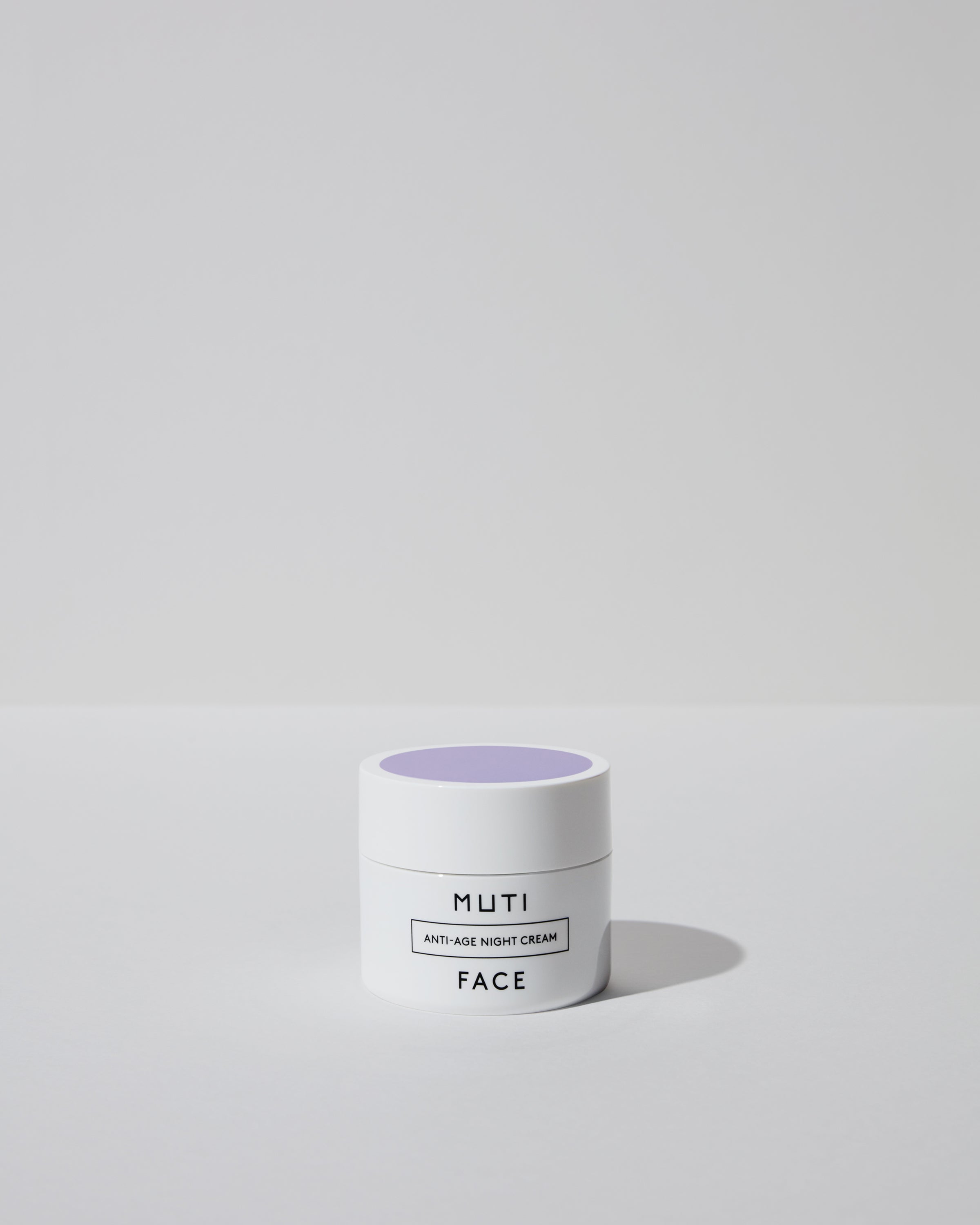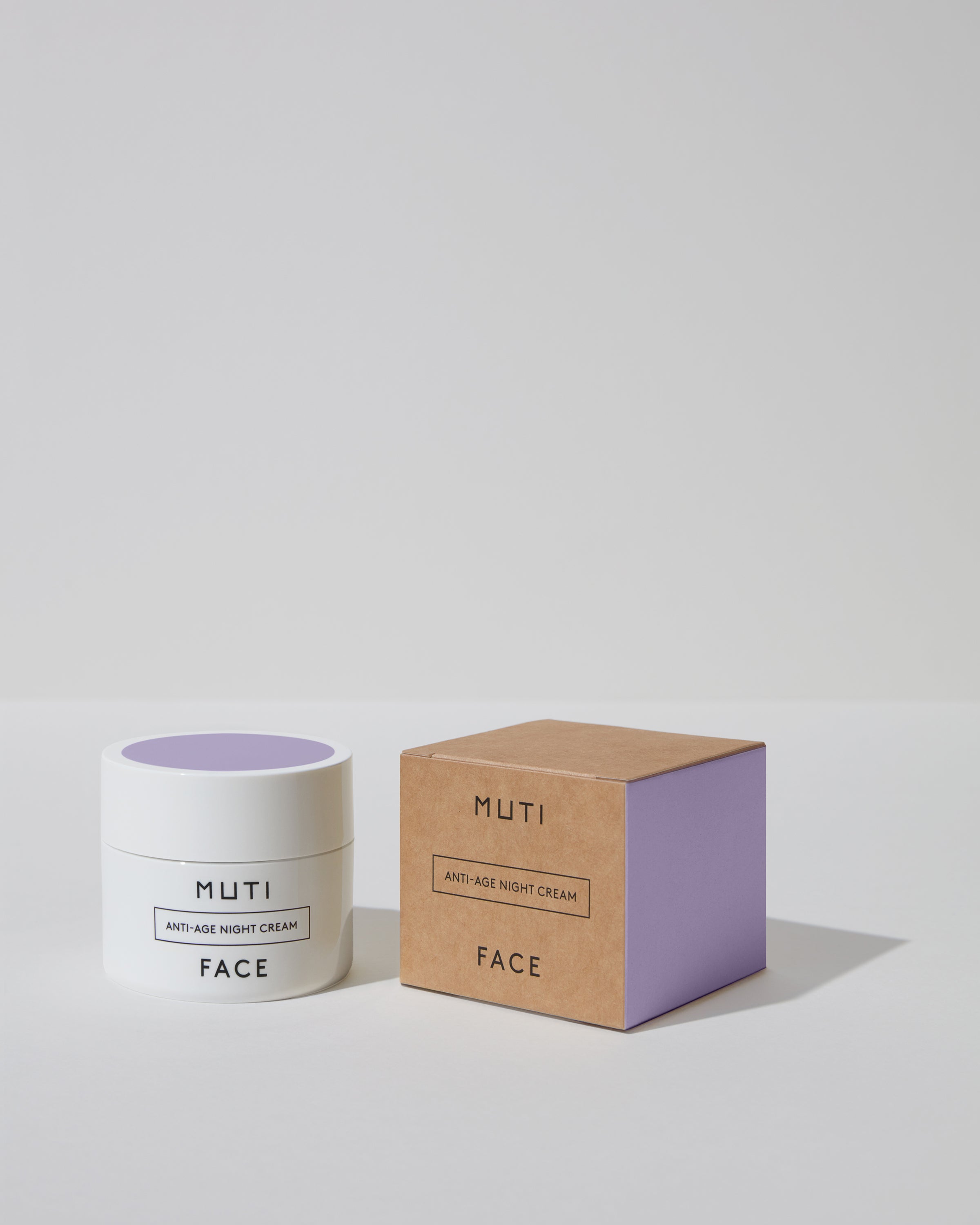 Sale price

48,50 €
Regular price
50 ml
970,00 €/l
Shipping & taxes calculated at checkout Delivery in 1-2 working days
Show details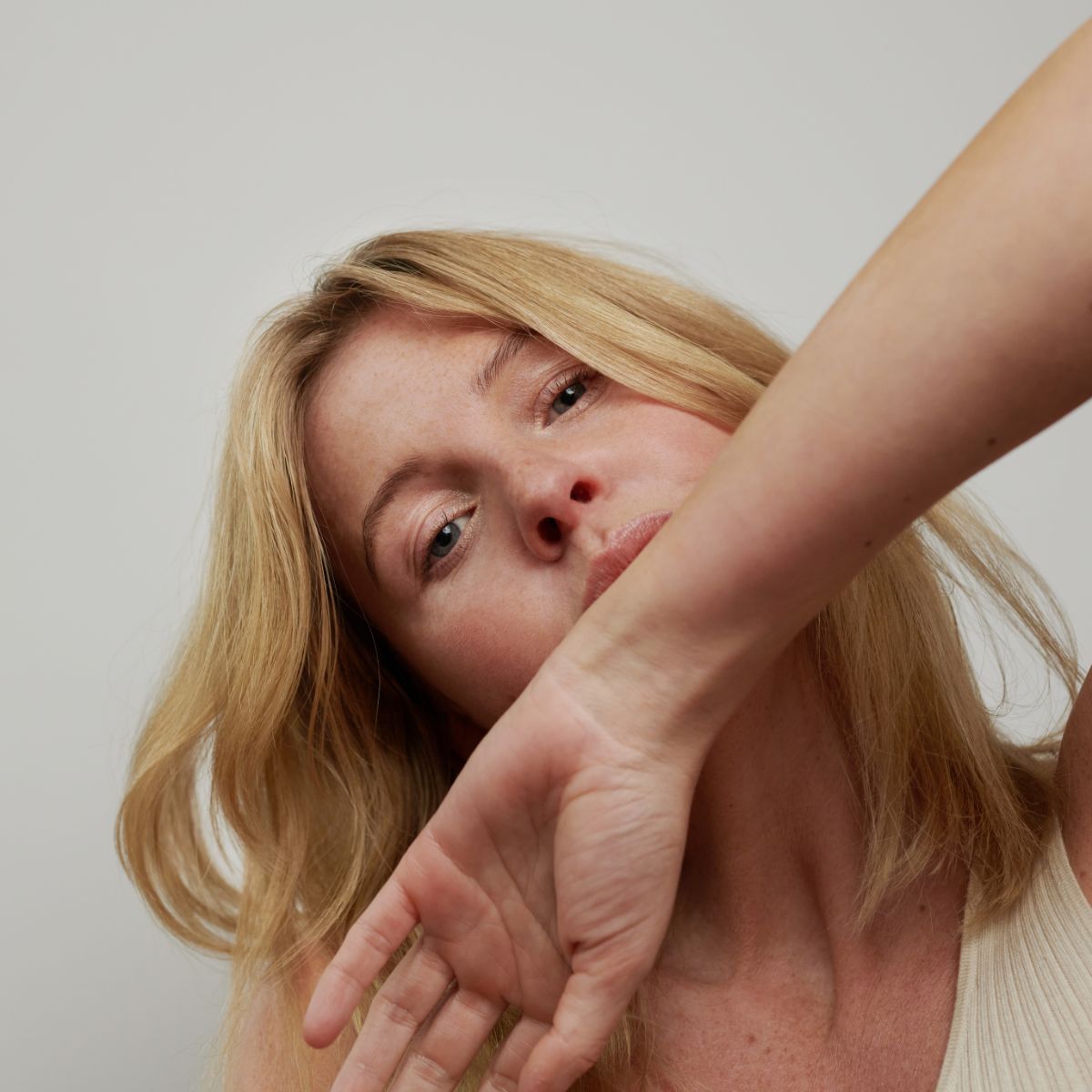 MUTI FACT #1
SKINCARE ESSENTIALS
MUTI simplifies the daily skincare routine by focusing on a few products that are thoughtfully designed to complement each other perfectly. They can be used and combined as needed, regardless of skin type and gender, based on the current skin needs.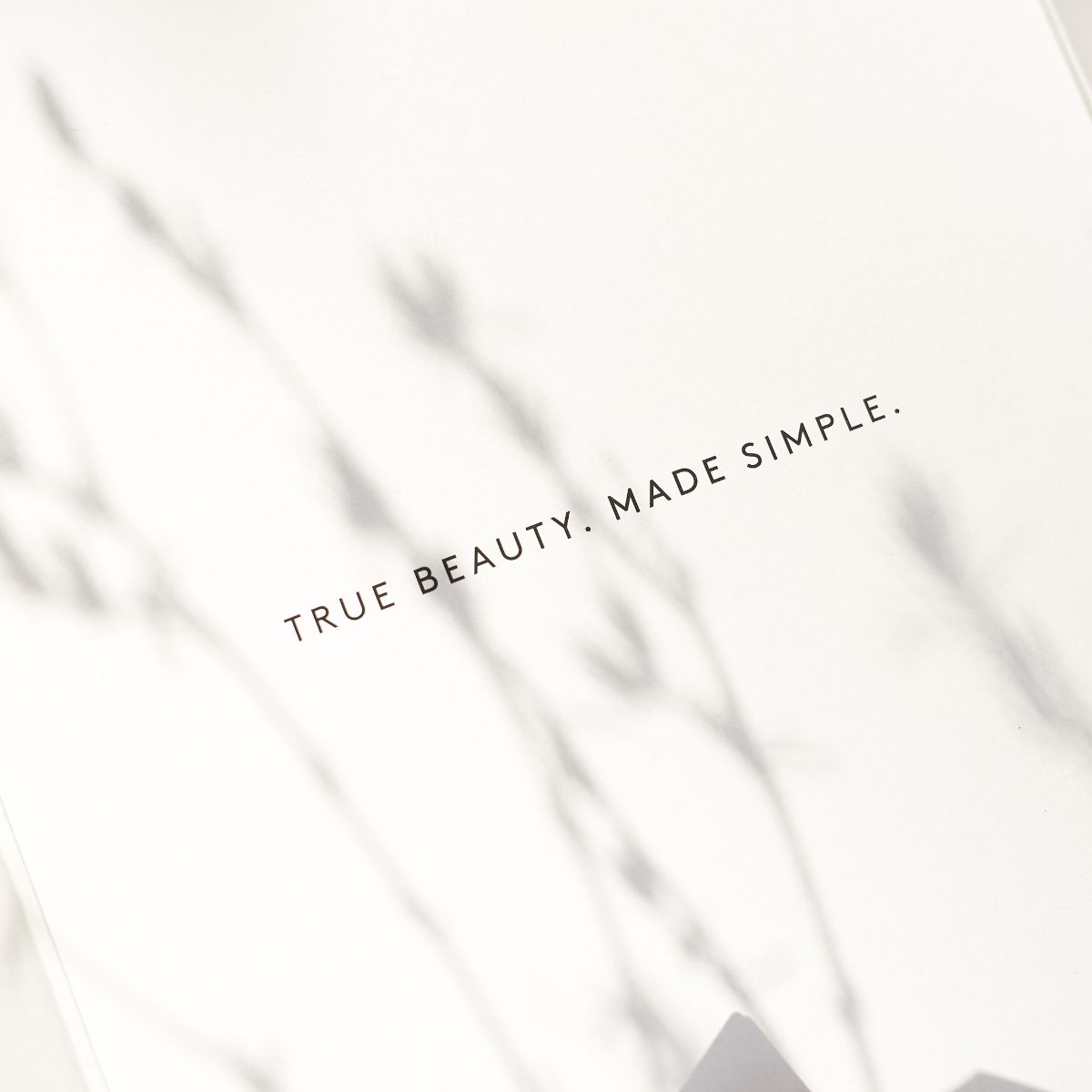 muti fact #2
MAXIMALLY THOUGHT OUT
Our essentials made from natural and synthetically produced ingredients impress with fast-absorbing textures and optimally dosed combinations of active ingredients. Without controversial ingredients, our products are highly effective yet well-tolerated.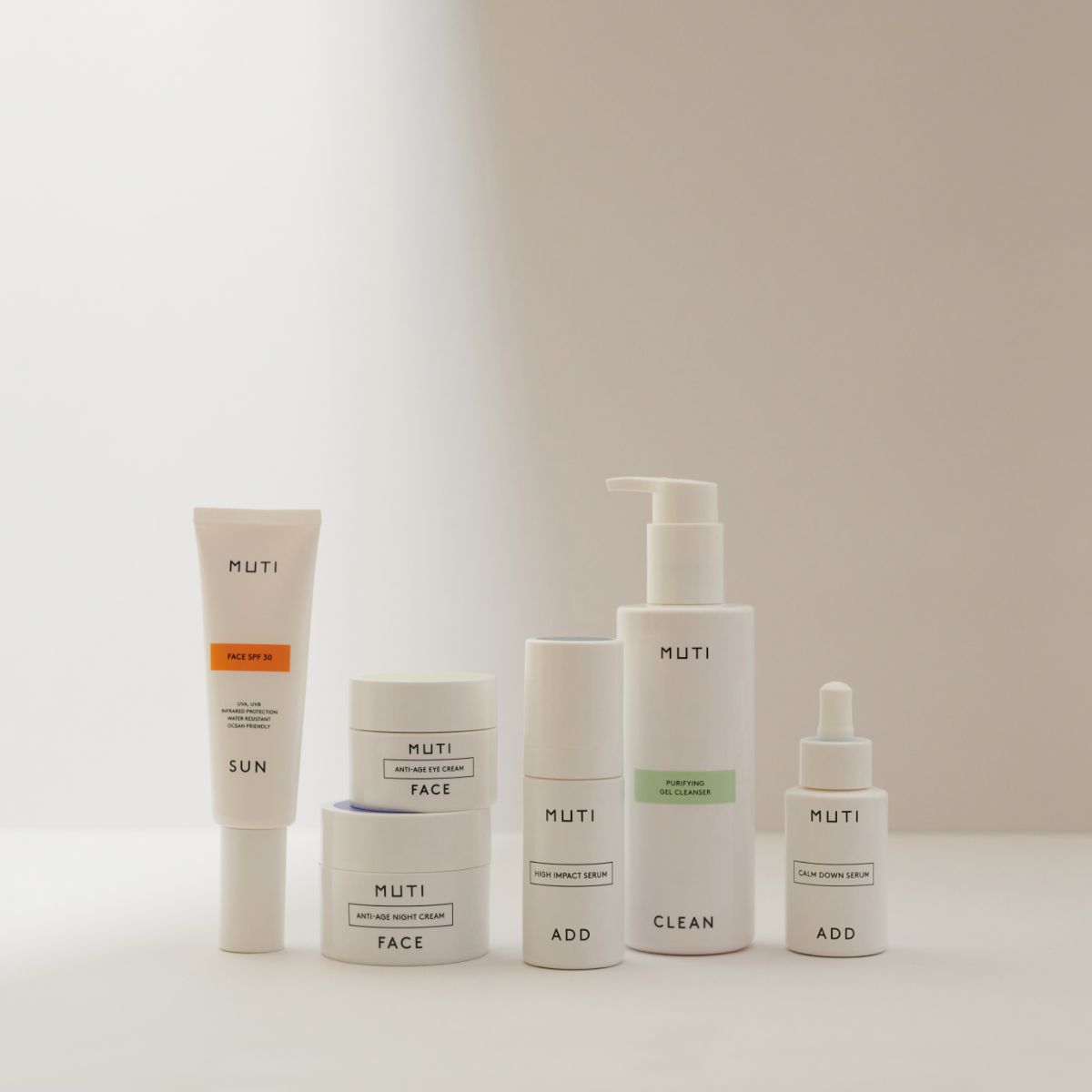 muti fact #3
SUSTAINABLE DURABILITY
MUTI relies on a sustainable product portfolio and doesn't follow every hype. We continue to evolve our products to make them more effective, gentle, and user-friendly. We launch new products when they complement and enhance our beauty routine in a meaningful and lasting way.
FREQUENTLY ASKED QUESTIONS
No. We do not conduct any animal testing, nor do we instruct third parties to do so. According to the EU Cosmetic Regulation, since 2013 it has no longer been permitted in the EU to sell cosmetics, that have been produced with the help of animal testing.
According to regulations, cosmetics must have a minimum shelf life of 30 months when unopened. In accordance with the EU Cosmetic Regulation of 2009, we indicate the shelf life after opening MUTI products using the PAO (Period After Opening) symbol. The number you find within the PAO symbol indicates the number of months your MUTI product remains usable after opening. Typically, MUTI products have a shelf life of six months after opening.
The MUTI products of the FACE line are designed for skin aged 25 and above. From around the mid-twenties, the skin gradually loses moisture, and collagen synthesis slows down. Therefore, it is important to counteract these effects with a smart and lightweight form of anti-aging by supporting the skin externally, including the use of moisturizing agents like fragmented hyaluronic acid.

We do not see the addition of "Anti-Age" before the names of our FACE products as an indication of a traditional anti-aging line exclusively for mature skin. Instead, we advocate for the idea that from a young age, the skin should be cared for and supported to achieve and maintain a healthy and beautiful complexion. We express this intention through the use of the term "Anti-Age" preceding each respective FACE cream.
In all our products, we avoid using filling and effect-imitating substances without actual efficacy, such as mineral oils and silicones. While active ingredients we utilize, such as hyaluronic acid and urea, can minimize fine lines caused by dryness in a short period of time, the sustainable visible effects typically become noticeable after four weeks of initial use when the natural cell turnover process, which takes approximately 28 days, has occurred.
Yes, the majority of MUTI products are suitable for pregnant women. The exception is the ANTI-AGE NACHTCREME PLUS due to the presence of the active ingredient retinol, which should be avoided during pregnancy.
Yes, but be cautious: the term "water-resistant" suggests that a sunscreen product can withstand water contact without any issues. However, this is not the case. In order for sun protection products to be labeled as water-resistant or, colloquially, waterproof, they must maintain 50% of the stated sun protection factor after two sessions of twenty minutes of water exposure.

Since our SUN line meets these criteria, you can stay in the water for a longer period of time compared to non-water-resistant products. However, sweating and towel drying can still affect the effectiveness of the sun protection factor, so we always recommend reapplying the SUN products after these activities.